The Annual ADC Gandel Oration
The Anti-Defamation Commission (ADC) is an Australian Jewish communal organisation dedicated to combating anti-Semitism and all forms of racism. ADC works to create a safe and fair society for all, seeking to build bridges of understanding and friendship among racial, religious and ethnic groups. Its guiding principle is to promote respect and justice for people of all faiths and cultural backgrounds.
John Gandel AO and Pauline Gandel have been long-standing and unwavering supporters of the work of the ADC.  Through the very generous support of Gandel Foundation, the annual ADC Gandel Oration was established in 2003. The ADC-Gandel Oration has now become a signature event of influence and impact on the Australian social, cultural and political calendar.   
The Oration
2013 marked the 30th Oration and it deservedly received rave reviews. It was delivered by Professor Deborah Lipstadt, an eminent scholar, author and the world's leading authority on Holocaust Denial. Dr. Lipstadt, who is a Professor of Modern Jewish History and Holocaust Studies at Emory University, was appointed by President Clinton to the United States Holocaust Memorial Council and was an historical consultant to the United States Holocaust Memorial Museum, helping to design the section of the Museum dedicated to the American Response to the Holocaust.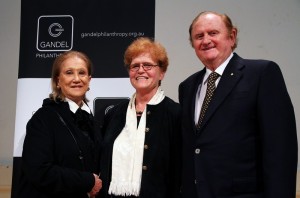 The ADC-Gandel Oration, held at St Kilda Town Hall, was wittnessed by a sell-out audience of some 850 people. Professor Lipstadt's Topic "History on Trial:  My day in court with David Irving" detailed her historic five-year battle with Irving, who sued her for libel after she referred to him a Holocaust denier and extremist. The judge threw out the case, exonerating Lipstadt, and found David Irving to be a Holocaust denier, a falsifier of history, a racist, an anti-Semite, and a liar. The oration mesmerised the audience, culminating in a standing ovation.
Over the past 30 years various prominent and high-profile academics, politicians and international statesmen delivered the ADC Gandel Annual Oration.