Epilepsy Action Australia ran the "Action Adventure" program for young Victorians with epilepsy in late 2013 at Portsea. "Action Adventure" was a three-day residential program that consisted of challenging outdoor activities based on the cutting-edge "Adventure Therapy", a "Ted-E-Bear Connection" segment and specialist epilepsy education.
The Program
"Action Adventure" program was supported by Gandel Foundation. High ropes, flying fox and giant swing were the main "Adventure Therapy" activities. Other activities included a camp fire on the first night, allowing the participants to share their stories and bond. There was also a visit to the beach, and indoor activities such as facilitated discussion on epilepsy management for parents and group games for all families.
The benefits
Epilepsy Action Australia reported that the 57 participants (25 adults and 32 children) truly enjoyed the opportunity to spend time with each other. Participants valued the chance to share their experiences with others, to see their children doing things that they had never done before, and to discuss their experience of epilepsy and seizures with Epilepsy Action Australia staff.
As Epilepsy Action Australia stated, "this project has confirmed that "Adventure Therapy" can be a valuable part of a total rehabilitation approach for children and their families affected by epilepsy". Research suggests "Adventure Therapy" has a positive impact on physical and cognitive development, coping skills and behaviour for people with chronic conditions and it has been applied to epilepsy-specific programs in many other countries for children with chronic illnesses, including epilepsy.
Participants' feedback and evaluation results proved to be strong evidence that activities and games developed on the basis of "Adventure Therapy" can greatly improve young people's self-esteem and courage as well as socialisation behaviour.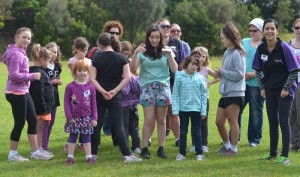 "Action Adventure" participants