Evolve is an organisation that provides a range of programs to disadvantaged or vulnerable young people, specialising in outdoor adventure and narrative therapy.
Evolve delivers programs such as the Young Men's and Young Women's programs, which are early intervention programs supporting young men and women at risk to evolve into strong, caring and purposeful individuals.
Evolve Young Men's Program
The Young Men's Program is a one year, early intervention program aimed at young men aged 14 to 17 years who are experiencing difficulties at home, school or in the community.
This program, supported by Gandel Foundation over 2 years, aims to provide opportunities for reengagment back into education, family and community, and vocational pathway development.  The program includes three distinct components:
Expedition: the participating young men undertake a rigourous, demanding and challenging multi-day hike though remote bushland followed by a home visit of four days;
Residential:  participants return to Typo Station (Evolve's remote rural property in North East Victoria) for several days of residential experience. This provides opportunities to strengthen the therapeutic changes achieved during the expedition as well as developing their vocational and relationship skills.
Follow-up programs and ongoing support: each participant of the Young Men's Program is invited to follow-up residential sessions over the course of the year, allowing them the opportunity to reconnect with staff and other young men who have shared the Evolve experience.
Latest Young Men's Group
The last group to complete the program had 20 participants, each of whom have taken part in the following activities:
– intensive interview and intake process;
– an 8-day hike program;
– a 5-day Station life experience;
– 2 adventure days white-water rafting;
– ongoing support within their communities.
A photo journal has also been developed for each young person.
On 5 April 2014, Evolve organised a celebration day for the group. On the day, the young participants officially 'graduated' from the program and had the opportunity to share stories of their success with family, friends and supporters.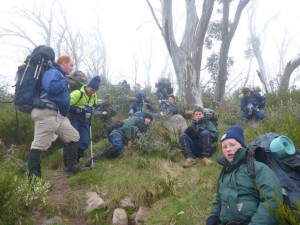 Young Men's Program participants during the 8-day hike