Women with disabilities experience violence to a higher degree and for longer than women in the general population, with stereotypes of disability contributing to this preventable violence. These are among the key findings of a research project, Voices Against Violence, launched by Natasha Stott Despoja AM, Ambassador for Women and Girls and Chair, Foundation to Prevent Violence against Women and their Children.
Ms. Stott Despoja said "The Voices against Violence research highlights that when sex discrimination is coupled with disability discrimination, women with disabilities are at an incredibly elevated risk of violence. However, this research also holds the promise of what might be done to stop this violence from happening in the first place – otherwise known as primary prevention of violence against women.
Evidence about the drivers of violence against women shows that the answer to preventing this violence lies in addressing the norms and behaviours that support rigid gender roles and gender stereotyping and in gender equality.  The good news of the proposition of primary prevention is that the norms and behaviours enabled by gender inequality can be changed."
Voices Against Violence is an initiative of Women with Disabilities Victoria (WDV), in partnership with the Office for the Public Advocate (OPA) and the Domestic Violence Resources Centre Victoria (DVRCV). The project was funded by Gandel Foundation and a research grant from the Legal Services Board Grants Program.
"The project has provided a rare and valued opportunity for Victorian women with disabilities to share their experiences of violence, to describe the support they received and to relate their experiences of the justice system. Importantly, women also provided recommendations for changes to the way the family violence service system supports women with disabilities," said Keran Howe, WDV's Executive Director, today.
"These are women's stories, real stories from real women. They reveal the depth of our failure as a society to provide a safe environment for women with a disability, and when that fails, to provide a just and supportive response so that women are again safe." she said.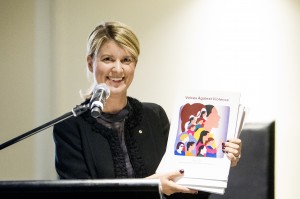 Natasha Stott-Despoja AM launched the Voices Against Violence research results. Photo: Jorge de Araujo 
The project reports on the extent and nature of violence against women with disabilities in Victoria. As well as interviews with women with disabilities about their experiences of violence, it includes an overview of current issues, a review of legislative protections, a review of the records of OPA and interviews with its staff and volunteers. The project includes seven individual reports.
The Public Advocate, Colleen Pearce, called for an expansion of the powers of the Public Advocate to investigate allegations of violence, abuse, exploitation or neglect as recommended last year by the Victorian Law Reform Commission. Currently, the Public Advocate only has investigative powers in relation to guardianship and potential guardianship cases.
Many typical situations of risk including in private homes, therefore, can't be investigated.
"We get calls every week about abuse, violence, neglect and exploitation relating to people in their own homes or in nursing homes but we can't investigate them," Ms Pearce said.
"Women with disabilities and mental illness are, arguably at even greater risk of violence in their own homes but we are very limited in what we can do."
The report found that women with disabilities experience higher rates of violence than women in the general community, they also encounter significant barriers to accessing appropriate support services and justice outcomes. In spite of this, there is a lack of data about the nature and extent of violence against women with disabilities in Victoria. There is also a lack of information and knowledge by services about what we can do to respond to this problem and prevent it from occurring.
As a cross-sectoral investigation of the circumstances of women with disabilities who have experienced violence, the project has provided data that have been used to devise evidence-based recommendations for legal, policy and service sector reform.
The stark findings of this report highlight the need for recognition of the ways that gender norms and stereotypes can perpetuate and uphold men's entitlement to use violence against women with disabilities.
"Recent public discussion about violence against women shows that the community expects governments to take action to protect women and children from violence," said Domestic Violence Resource Centre Victoria's Executive Director, Virginia Geddes, today.
"This research shows clearly what needs to be done. We call on the Premier Denis Napthine to show leadership in addressing the many barriers to justice and safety faced by women experiencing violence and in particular by women with disabilities," she said.
The project was funded by Gandel Foundation and a research grant from the Legal Services Board Grants Program. Women with Disabilities Victoria is grateful to these organisations for their generous support of the project.
Media Enquiries: For more information, interviews or for a full copy of the executive summary of the reports, please email simone.flanagan@wdv.org.au or 03 92867804