OzHarvest is one of 21 organisations which received support in the third phase of COVID-19 grants distributed by Gandel Foundation. In this most recent round of funding announced in June 2021, support for food security programs again featured prominently, along with mental health programs and general operating support for a range of charities.
In response to the pandemic and the continued rise in demand, OzHarvest developed and delivered additional food relief programs to vulnerable communities in Metro Melbourne and regional Victoria.
Between March 2020 and August 2021 alone, OzHarvest rescued 1,924,905 kgs of good, nutritious surplus food from 473 Victorian food donors and delivered that food directly to 181 Victorian charitable organisations, helping provide essential food assistance to thousands of families. Sadly, during the pandemic OzHarvest saw their waitlist grow by 28%, showing that demand is still outstripping supply. In response the growing need OzHarvest decided, for the first time in their 17-year history, to also purchase and deliver an additional 1,195,352 kgs of food supplies throughout Victoria.
OzHarvest also responded swiftly to emerging needs in the community, such as the recent food supply challenges faced by residents of Shepparton in August 2021. With nearly 30% of the town's workforce in isolation and supermarkets struggling due to lack of staff, OzHarvest quickly coordinated the delivery of 20 pallets of nourishing food which was provided to their local partner on the ground, FoodShare.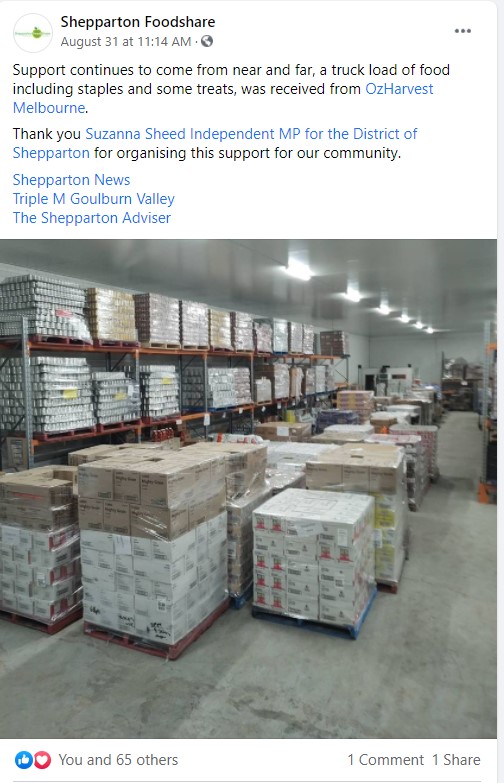 Gandel Foundation is proud to support OzHarvest and help them deliver essential food relief supplies to vulnerable Victorians.